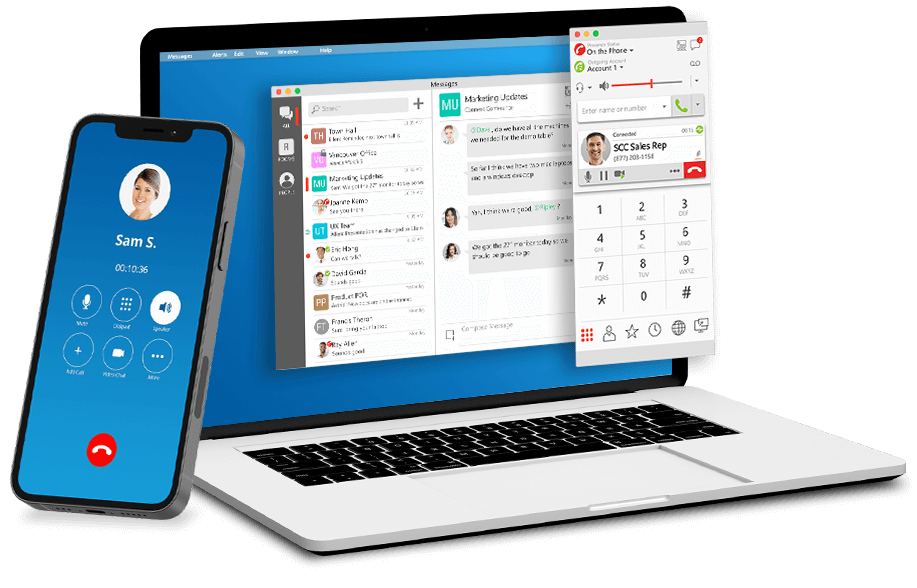 The business phone app built for modern work.
Make and receive calls, hold video meetings, send messages, and more.
Take your office with you. The business phone app, also known as the softphone, allows users to flexibly communicate from their mobile device or desktop.

Make calls from anywhere and powerfully communicate through one app

Use your existing business phone number and integrate your contacts

Get 24x7x365 U.S.-based support, high-quality audio, and 99.999% uptime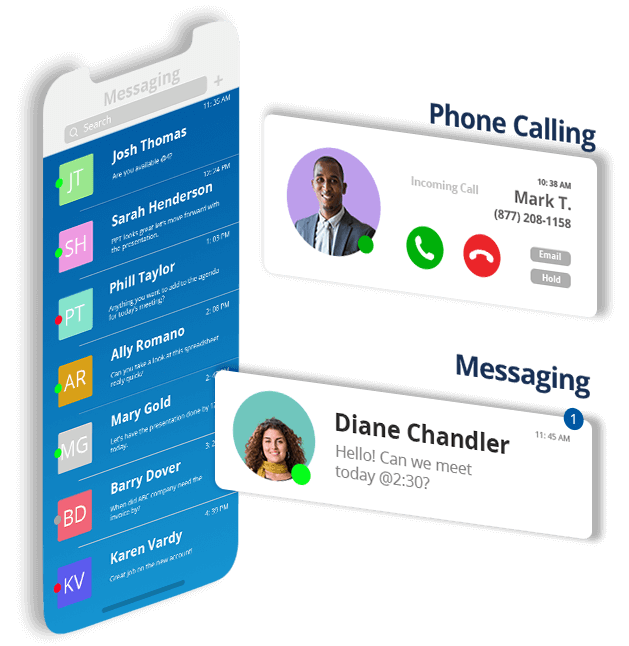 Reach your contacts
and team with just one click.
Instantly call, conference, chat, video, or share screens with individuals or groups.  Sync your existing contacts and get multiple features through one powerful app.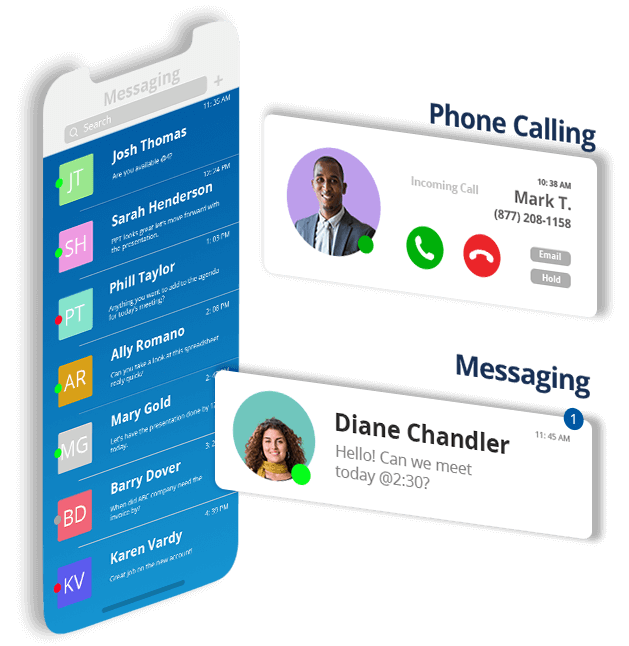 Stay productive and make calls from your desktop.
With our one communication platform approach, all your communication tools live together in the same app.
Switch between desktop
and mobile seamlessly.
Our all-in-one mobile app removes the need to have multiple platforms to get your message across. It's easy to use, efficient, and supports thousands of enterprises worldwide.
Understanding Smart SMS Features
Our team of experts work to customize your solution.
See our award-winning features below.
Auto-Attendant
Call Presence
Call Recording
Call Reports
Call Screening
Call Waiting/Transferring
Conference Bridge
CRM Integration
Custom Music or Message on Hold
Directory Dialing
Distinctive Ring
Do Not Disturb
Drag and Drop
Google Chrome Integration – Click to Call
Inbound and Outbound Custom Caller ID
Individual Direct in Dial Numbers
Find Me/Follow Me
IVR with Voice Recognition
LDAP (Lightweight Directory Access Protocol)
Missed Call Notification
Number Porting (Keep Your Existing Contact Numbers)
Online Fax (eFax)
Simultaneous Ring
Single Sign-On
SIP Trunking
Softphone (Mobile App)
Speed Dial
Toll-free Number
Upgrade Options
Virtual Extensions
Voicemail
Voicemail Greetings
Voicemail to Email
Voicemail Transcription
Web Receptionist
Web Portal
SmartChoice has been awarded the Product of the Year.
Notable University Implements Powerful Softphone Solution to Serve 16,000 Remote Students During COVID-19
Smart Choice's solution allowed these departments to view real-time reports and handle large numbers of calls accordingly.
Because of COVID-19, the university needed a solution that would allow them to handle a growing number of incoming calls for different departments.
With 16,000 students to serve and more than 3,000 employees, Smart Choice was ready to take on the challenge and rise to the feat.
Unify your communications.