Connect.
Collaborate.
Secure.
Support.
The business communication provider that's on your side.
Call. Collaborate. Secure. Support.
The business communication provider that's on your side.
ONE

Communication Platform.

ONE

Point of Contact.

ONE

Smart Choice.
ONE

Communication Platform.


ONE

Point of Contact.


ONE

Smart Choice.
An award-winning feature rich solution that includes our softphone app, call recording, click to dial, voicemail transcription, and a seamless integration with your phone system of choice.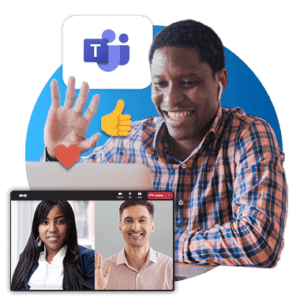 Two platforms in one solution, leveraging Microsoft Teams' front end and SmartChoice's back end, taking your organization to the next level with Smart Teams.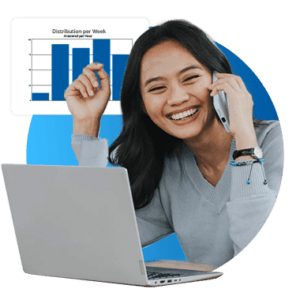 Manage user engagement across various channels, whether via live chat, phone, email queues, or SMS messaging. Provide agents with user-friendly tools and analytics that provides technical support, customer service, and sales development that enhances the overall customer experience (CX).
White-Glove Service
Get the attention that you've always deserved.  Simply meaning "marked by special care or attention," our reliable white-glove approach takes your customer experience a step further, acting as your technology partner first and provider second.
24x7x365 U.S. Based Support
Never wait for help again.  With our industry-leading response rate and single dial, always-on support line, our team of experts is available to you day and night – anytime, anywhere, and worldwide.
One Provider for All Your Business Communication Needs
Quit shuffling from bill to bill, vendor to vendor. Whether it's UCAAS, contact centers, or our revolutionary collaboration platform, acting as the only point of contact is why we're the Smartest Choice.
Trusted by Thousands of Enterprises Worldwide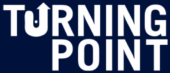 "Our business is not managing a phone system. It is saving lives. And SmartChoice has enabled us to keep our eyes on our mission."
Robert Parkinson
Chief Financial Officer, Turning Point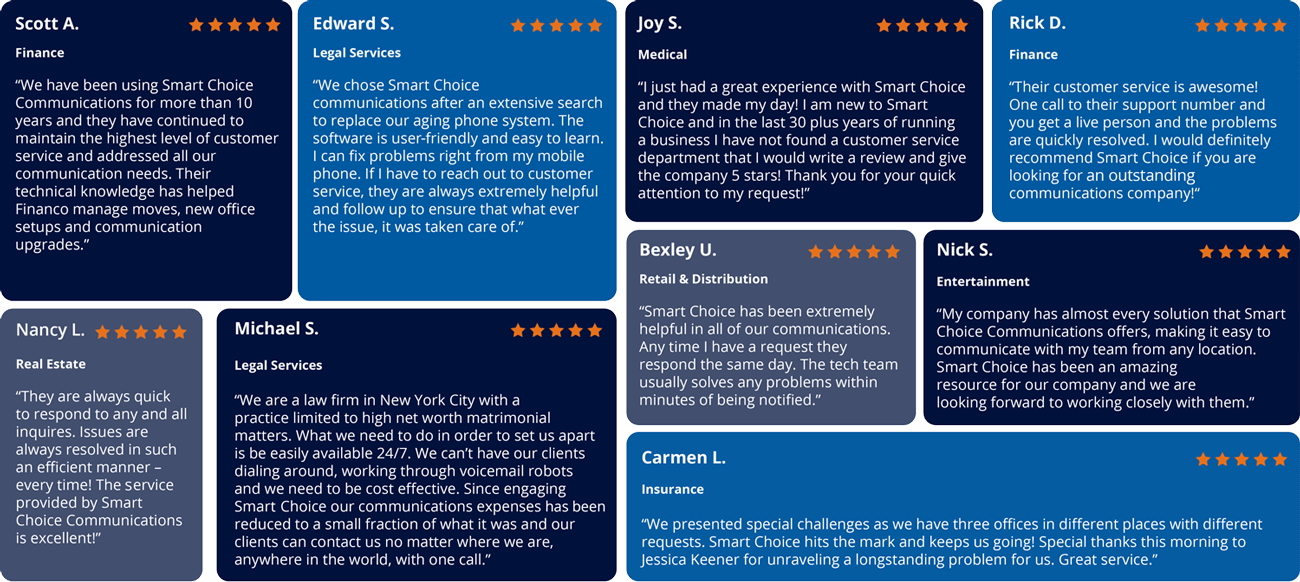 Scott A.
"We have been using SmartChoice for more than 10 years and they have continued to maintain the highest level of customer service and addressed all our communication needs. Their technical knowledge has helped Financo manage moves, new office setups and communication upgrades."
Edward S.
"We choose Smart Choice communications after an extensive search to replace our aging phone system. The software is user friendly and easy to learn. I can fix problems right from my mobile phone. If I have to reach out to customer service, they are always extremely helpful and follow up to ensure that what ever the issue, it was taken care of."
Joy S.
"I just had a great experience with Smart Choice and they made my day! I am new to Smart Choice and in the last 30 plus years of running a business I have not found a customer service department that I would write a review and give the company 5 stars! Thank you for your quick attention to my request!"
Rick D.
"Their customer service is awesome! One call to their support number and you get a live person and the problems are quickly resolved. I would definitely
recommend Smart Choice if you are looking for a outstanding communications company!"
Nancy L.
"They are always quick to respond to any and all inquires. Issues are always resolved in such an efficient manner – every time! The Service provided by SmartChoice is excellent!"
Michael S.
"We are a law firm in New York City with a practice limited to high net worth matrimonial matters. What we need to do in order to set us apart is be easily available 24/7. We can't have our clients dialing around, working through voicemail robots and we need to be cost effective. Since engaging SmartChoice our communications expenses as been reduced to a small fraction of what it was and our clients can contact us no matter where we are, anywhere in the world, with one call."
Bexley U.
"Smart Choice has been extremely helpful in all of our communications. Any time I have a request they respond the same day. The tech team usually solves any problems within minutes of being notified."
Nick S.
"My company has almost every solution that SmartChoice offers, making it easy to communicate with my team from any location. Smart Choice has been an amazing resource for our company and we are looking forward to working closely with them."
Carmen L.
"We presented special challenges as we have three offices in different places with different requests. Smart Choice hits the mark and keeps us going! Special thanks this morning to
Jessica Keener for unraveling a longstanding problem for us. Great service."
What's New at SmartChoice
What's New at SmartChoice