The Smart Choice Difference
One Bill, One Provider, One Smart Cloud Solution
White-glove service tuned to your unique needs
At SmartChoice, we understand that every enterprise has unique needs and that a one-size-fits-all approach to service isn't likely to deliver the best results. As pioneers in unsurpassed customer service since 1998, we provide special care and attention in the form of white-glove service. Our aim is to become a valued business partner, with a vested interest in helping you grow your organization.
Our white-glove service begins with your very first interaction with us and continues throughout your entire customer journey. From onboarding to training to ongoing support, we will take our time getting to understand the specific communication needs for your business. We recognize the importance of gathering valuable insights into the collaboration and communication challenges your organization faces and helping you use our solutions to address them.
What differentiates our white-glove service above all is the fact that we listen, engage, and design our solutions based on your unique business goals and objectives. We pay attention to every detail with a view to helping you achieve complete technological alignment with your business goals. Instead of off-the-shelf solutions, we offer a tailored experience with seamless communication, advanced technology, and unrivalled ongoing support.
Thanks to our white-glove service, you can stay focused on what matters most – your team and your customers.
Dependable support, whenever you need it
The success of your business depends on its ability to communicate and be available to your customers at their time of need. The mission-critical nature of your communications systems means you need access to dependable support if something goes wrong or you just have a question or concern. And we certainly don't expect you to wait until the next working day to have your questions answered.
That's why we offer 24x7x365 customer support with a number that you can call any time. Our support network is exclusively based in the US, with operation centers based throughout the country to deliver timely, empathetic help whenever you need it. Our support and customer success teams work side-by-side not just to help you resolve problems, but to do everything they can to contribute to your success.
Our team of engineers are cross-trained with various skills and abilities so you can always find the right experts to talk to. We have experts on cabling and on-site equipment installation, network troubleshooting, and UCaaS programming and implementation. Our dedicated project team aims to surpass all expectations by providing close attention to detail and tailor-made solutions throughout the provisioning process and beyond.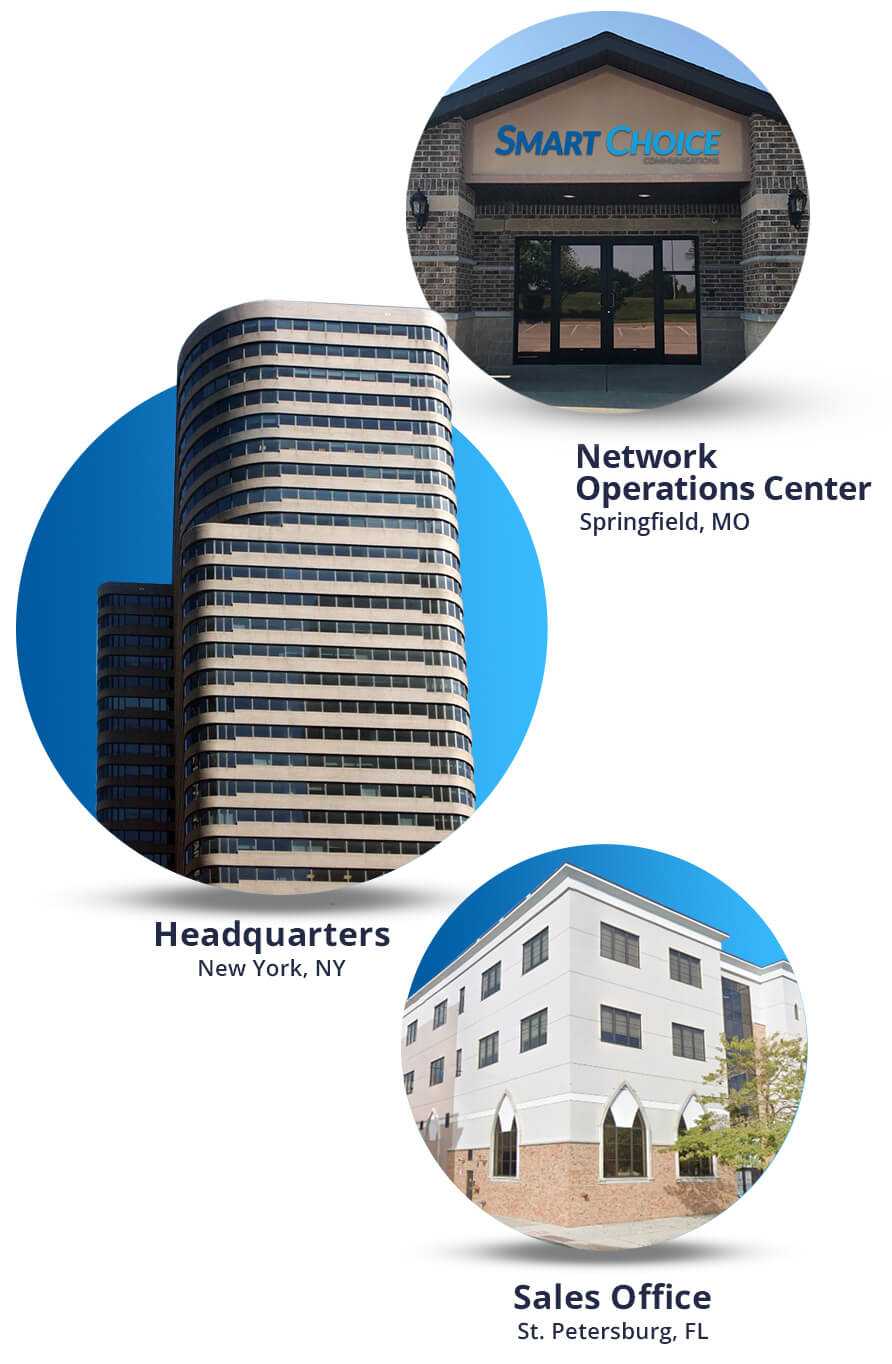 One provider for all your communication needs
As technology evolves, so does complexity. One of the most common complaints we hear from IT and business leaders is that they're trying to deal with multiple communication tools and providers daily. The so-called technology bloat is a recurring problem in a time when many organizations are trying to manage a disparate range of services and solutions that don't work well together.
We believe in keeping things simple, while still accommodating flexible working environments and the wide range of tools and channels your team and your clients depend on. That's why we take an integrated approach by consolidating multiple points of contact into one. No longer will you have to move from one vendor to the next or worry about ongoing compatibility issues.
SmartChoice reduces complexity and ensures flexibility and scalability with a diverse yet integrated set of products and services. Our solutions are tailored to the unique needs of every organization, allowing us to accommodate a wide range of industries from legal to healthcare to finance to real estate. All the while, you can keep costs to a minimum with one bill from one provider and one smart cloud solution.
Paired with our commitment to providing the best customer experience and a proven track record of 99.999% uptime, the difference is unequivocal. SmartChoice is on your side.